DELIXIRUM Lemon Leather Cleaner
Lemon Leather Cleaner:
smooth leather cleaner that removes tough dirt without damaging leather surfaces or paint. It gives leather elements a beautiful, satin finish, while cleaning their surfaces from dirt and discoloration. Regular cleaning of the leather extends its life and preserves its original appearance, protecting the paint and preventing its abrasion.
Lemon Leather Cleaner is available in the following capacities: 150ml, 1L
Directions for use:
Apply Lemon Leather Cleaner foam to the upholstery and use a leather brush to gently clean the dirty areas in a circular motion. Remove the remaining foam with a soft microfiber. Repeat the operation if necessary. Let it dry. In case of heavy dirt, we recommend using the stronger leather cleaner Delixirum Coral Leather Cleaner Strong. After cleaning the leather upholstery, it is worth impregnating it with Delixirum Pearl Leather Cleaner. Impregnation should be carried out min. after 2 hours from the end of the cleaning process.
Do not use on open aniline, nubuck, velor and Alcantara leather. The product is safe for smooth leather, however, we recommend performing a test in a hardly visible place to check the stability of the paint. Storage temperature between 5°C - 30°C
SAFETY DATA SHEET
BUY PRODUCT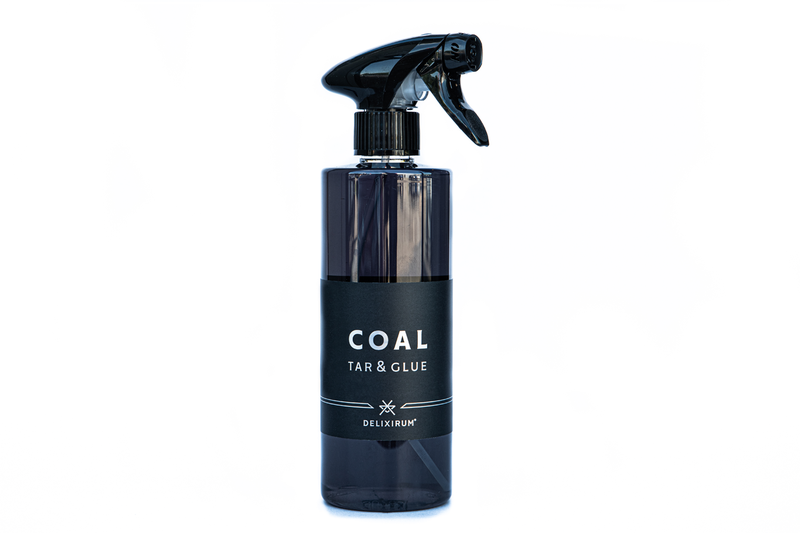 COAL TAR&GLUE REMOVER
Intended for the removal of resin, tar, asphalt and glue. Safe for painted elements. For professional use only.
MORE